Detect security threats before they are exploited
ATOM ONE
the efficient tool for cyber-attack prevention.
ATOM ONE
ATOM ONE is a cloud-based cybersecurity prevention service for organizations of any size. ATOM ONE provides IT managers with operational and security evaluation and recommends preventive measures to secure your IT environment.
Comprehensive
Environment overview in one easy-to-read dashboard. All important information and recommendations at glance.
You don't need more tools.
Preventive
Effective ransomware prevention, early detection and remediation recommendations.
Reduce your exposure to cyber attacks.
Up-to-date
We are adding new threat definitions. A new threat is detected within hours before exploitation.
Don't worry about new threats.
Instant deployment
Activation and deployment in minutes. A comprehensive overview of your environment in hours.
Protect yourself right now.
Scalable
Flexible plans according to consumption on a monthly basis, with the option of a subscription.
Don't overspend anymore.
Continuous development
We are constantly adding new features; we are not resting on our laurels. We are continually moving forward.
Stay ahead of hackers.
At first glance
You see how your environment is doing and how to make a decision.
Four areas, four scores. In each, you see what to improve. In case of a cybersecurity attack, you will see "something going on". You can make the right decision quickly and react accordingly. Avoid knee-jerk reactions that lead to poor outcomes.
Availability

Monitor your devices to ensure they are in good condition and available at all times.

Capacity

Have the capacity of your servers in your control, don't let it run out. If there is a capacity or resource shortage, you will see it.

Operations

See changes and modifications to the IT environment. Find who did them. Nothing ever happens on its own!

CyberSecurity

Identify the vulnerabilities of your devices and environments in near real-time. You will have enough information and time to remediate.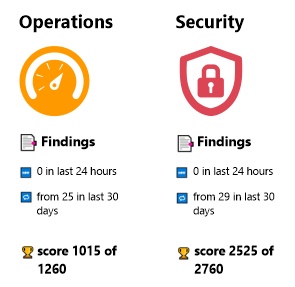 ATOM ONE - simple pricing
Acquire the technology you need now, match payments to your growth.
ATOM ONE has flexible plans according to the number of managed devices per month. The main functions are included in all pricing plans! Extensions such as Premium Data Retention or Log Management are available for all pricing plans. Contact us for an individual offer of extension functions.
Core features
The most important for operations and security information in ONE dashboard.
Local Network Availability Probe
Windows Server monitoring
Windows Server update inventory
Server and device performance monitoring
Windows Reliability monitor assessment
Windows Server Best Practice Analyzer interpretation
Hardware and software inventory
SQL Server Health check
Certificate validity assessment
AD and local privileged groups assessment
AD and local user and groups assessment
Active Directory (AD) Health check
Active Directory (AD) replication monitoring
Extended features
Give you an above-standard overview of your environment. In ONE dashboard.
Extended data retention up to 730 days
Extended Cyber Security Assessment
Microsoft Exchange Assessment
Microsoft SharePoint Assessment
Public Web Probe
DNS Analytics
Network Monitoring
Log management
E-Mail notifications for selected events